Frequently Asked Questions
We've compiled a list of common questions that we are often asked. If you have something not answered here, please
contact us
.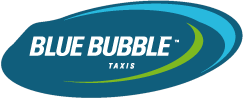 Blue Bubble taxis offer you a variety of payment options. You can pay in advance of your ride, or in the taxi. Before your ride: Pay with credit card over the phone, or using the app. In car: pay with cash, Eftpos/Credit Cards and TaxiCharge. (Please note that Manawatu Combined Taxis are unable to accept TaxiCharge)
Some drivers take personal cheques. Please let the call-taker know you wish to pay by cheque when you place your order, and the taxi assigned to you will accept them.
Do you have an App, or do I have to call to book a taxi?
I'm having trouble with the Blue Bubble App, who should I contact?
How much will a journey cost me?
What hours do taxis operate?
How are taxi drivers vetted?
Why are there cameras in the taxi?
What if I have a complaint?
Can you take passengers that are in a wheelchair?
Can I take my dog in a taxi?
Can I book cars for a wedding?
Why are taxi vans so hard to get on Friday and Saturday nights?
Can you take five passengers in a taxi?
Can you deliver my groceries?
Can you deliver alcohol or cigarettes?
Why is my pre-ordered taxi late?
Can I order a taxi van to help me move flat?
Will the driver knock on my door when he/she arrives?
Can a driver refuse to take me?
I've left something in the taxi, where can I retrieve it?
Do you provide car seats for children?
Do you offer a Dial-A-Driver Service?
Do you offer tourists tours?